'S.S. Banana Cabana'
Season 1, Episode 12
Premiered:
June 28, 2011
S.S. Banana Cabana is a Season 1 episode of Almost Naked Animals.
Synopsis
Howie buys many super powered flush toilets to replace the boring flush of the normal ones. By using them overnight, he busts the the Banana Cabana's pipes sending the hotel afloat. When the hotel hits land Octo is captured by crabs who want to offer his legs to a volcano so it wouldn't erupt.
Plot
to be added
Characters who appeared in this episode
Trivia
Sloth says, "Ooo, It's like being on a cruise ship!" (gasps) "Cruise ships are so romantic!" She gazes at Howie dreamily.
At the end, Duck stands at the top of the Banantenna and sticks his arms out like Rose in Titanic and shouts "I'm the mayor of the world!"
The crabs have sticks that appear to be sharp, however, they are tickly sticks.
This could be the crabs' very first appearance.
Gallery and Videos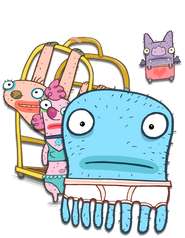 Click here to view the gallery.
Adult Humor
to be added
References
Ad blocker interference detected!
Wikia is a free-to-use site that makes money from advertising. We have a modified experience for viewers using ad blockers

Wikia is not accessible if you've made further modifications. Remove the custom ad blocker rule(s) and the page will load as expected.