Howie


Vital statistics
Animal
Dog
Gender
Male
Job
The manager at the Banana Cabana
Voiced by
Rob Tinkler
Howie is the crazy, hyperactive yellow dog and manager of the Banana Cabana. He is Dirk Danger's number 1 fan, enjoying watching his stunts and movies. Howie is usually oblivious to the obvious and not very smart, and it usually causes him pain to think. He has a strong love for his sister and is loyal to his friends. It is revealed he is very good at demolishing buildings with nothing but his head.
Howie loves performing stunts, usually ending in a painful crash and explosion. He seems to have an amazing recovery rate. His favorite restraunt is the Fruity Noodle Hut, and his favorite drink is Cap'n Fizzy's Fuzzy Orange Soda.
Although hidden most of the time, he is valued by all his employees and friends at the Banana Cabana.
Biography
Edit
Early life
Edit
There isn't much known about Howie's early life, except that he was born on Marchember 43rd and that he had an imaginary friend named Platymoose and befriended Octo during his childhood[1]. Howie's parents were never seen, although he and Poodle have mentioned their father a few times in the TV series. Howie also went to a summer camp called Camp Lakeboogerwater.
Current Life
Edit
Howie's dad currently owns the Banana Cabana and his son is the manager of the hotel. Howie had also hired six employees (Bunny, Duck, Octo (met and befriended him before), Narwhal, Sloth and Piggy) to work at the Banana Cabana. Howie is dirk dangers number 1 fan.
Personality 
Edit
He is hyperactive and impulsive, he's almost always cheerful. It is reveald that Howie is also polite and intelligent, able to pull off stunts without crashing, but cannot usually do so because he consumes too much sugar and therefore cannot concentrate long enough. He has a strong dislike for brussel sprouts and a happy-go-lucky atttitude. He is always happy to help a friend.
Appearance
Edit
Howie is a pale-yellow Labrador Retriever and wears a white vest and light and sky blue striped shorts. One of his eyes seems to be sticking out and has multiple of hair on his body.
Relationships
Edit
Howie and Octo has been the best friends since they have been children, ever since Howie crashed into Octo while stunting. They share a room at the Banana Cabana. Octo is also an employee of Howie. Howie, sometimes, dislikes Octo's safety rules[2][3] when it gets out of control because Howie prefers danger.
Howie's employee. Howie is not usually getting Bunny's activity ideas in some episodes. In the episode "Kikmee", Howie bet that Bunny can't have anger issues for a day, then Howie won the bet. In one episode, Howie punishes Bunny for taking over the Banana Cabana while being a assistant for Poodle.
Howie's sister and rival. Poodle and Howie's relationship are a love-hate relationship because Poodle tries to destroy the The Banana Cabana and is stopped by Howies friends and accidentally by Howie, who appears oblivious to his sisters hate for him and attempts to take over his hotel.
Main article: Sloth and Howie's relationship
Howie's employee . Sloth is madly in love with him and tries to show it but he just thinks she's being a good friend. Sloth loves Howie.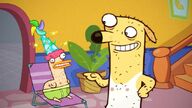 Howie's dimwitted yet smart best friend and employee. Howie always loves Duck's ideas (for example: In "It's My Party", Duck had an idea about having a party and Howie loved his idea). Sometimes, Howie thinks Duck is very strange and weird but Duck thinks Howie is the "weird one" in The Brother and Sister Games.
Howie's bossy and strict friend. Howie always likes Piggy's cooking. Piggy refers to Howie as "Smelly Dog Thing". Howie can be seen showing affection towards piggy, usually resulting in Pigging hurting him. However, Piggy does like Howie, shown as he begins to cry when Howie is forced to leave the island.
Howie's lounge singer friend and employee. Howie loves hearing Narwhal's singing.
Howie and Batty share little to no friendship, but do share common interests.
Appearances
Edit
So far, Howie appears in every episode in the TV series, along with Octo, Bunny and Duck.
Howie has a tank top tanline, which indicates that there was a period of time where he was not shirtless.
He was seen without his pants in "It's My Party". However his private parts were not shown. This was due to his fast movement.
Howie is the only character in the series to not be named after his own animal species.
In "Cool Paw Howie", Howie once turned the hotel into a prison for the most annoying animals ever.
Howie also owns a tugboat made of moonbeams and pretzels.
Howie was seen wearing a loincloth in The Green Banana.
Howie is the 'dad' of the animal eating plant Hank.
In one episode Howie gets his own set of mini Howie.
Behind the Scenes
Edit
Howie is voiced by Robert Tinkler.
Howie often says "fire trucks", making him a retired firefighter.
References
Edit